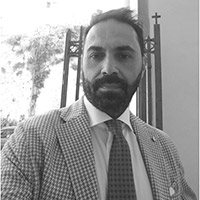 Associate Professor
Università degli studi Link Campus University - Roma
Fabio Fiano received a Ph.D. in Entrepreneurship and Innovation from the Second University of Naples, Italy. He graduated from Second University of Naples with a bachelor's in Business Administration; he also holds a Master's degree in Management Control and Information Systems from the University of Naples Parthenope, Italy.
Formerly Professor of Tourism Management and Territorial Marketing, Business Creation, Corporate Strategy & Governance, Project Financing, Business Strategy, Digital Technologies for Business, Innovation Management.
Currently he is an Associate Professor of Business Management - Link Campus University, Rome, Italy.
His editorial engagement regards the membership of the Editorial Advisory Board and the activities of Ad hoc Reviewer for numerous international journals.
He has published articles on prestigious journals (including Small Business Economics, Management Decision, Journal of Knowledge Management, Technological Forecasting and Social Change, Business Process Management Journal, British Food Journal, Journal of Intellectual Capital, IEEE Transactions on Engineering Management, Journal of Business Research) as well as in international conference proceedings on the following topics: Innovation, Corporate Governance, Knowledge Management, Bankruptcy Prediction Models, Big Data.

Curriculum Vitae
---
OFFICE HOURS
The office hours will take place immediately after the lessons. In any case, the students may ask the professor for a private appointment by mail.